18 novembre 2008
Materials:
Sock yarn (gauge: 9,5sts for 1 inch)
DPN US0 (2mm) or any size needed to obtain gauge
Yarn needle
These newborn mitts are knitted fingers up. Also there is no thumb to help dressing up baby!
Directions:
With the figure 8 cast on, CO 20sts (10 for the top and 10 for the palm). K the 1st st twice (knit into front and back of stitch), k to 1st before end of top, k next st twice. Repeat for the palm. Continue increases on each round until there are 18sts on each side (36 total)
K 5 rounds
K following pattern for the top of the mitt, the palm is knitted entirely in stockinette.
At the same time On row 1, for the palm, increase by knitting the 1st st front and back, k until 1 st before end of palm and knit that st front and back. Repeat those increases on row 3. (40sts) Finish pattern.
K 2 rounds. On next row, on the palm side, ssk, k to 2 sts before end of palm, k2tog. K 1 round and repeat these decreases once on the palm side only.

Cuff: * k2, p2 * Repeat 11 times.

BO: Cut the yarn but keep approx 2 feet to finish. Thread the yarn in a yarn needle. Insert needle in the first 2 sts as if to purl, pull the yarn. Insert needle in the first st (to the right) as if to knit, repeat to end., For more information on this type of BO visit: (http://knitty.com/ISSUEsummer06/FEATsum06TT.html) it's the last method listed on the page.
Repeat for the second mitt.
10 août 2006
I finished kaki's back this week: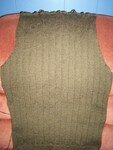 The front is going great. I love doing the cables, it looked really harder than it is. Now I'm addicted I am new to cables world and I love it!

Here is a close up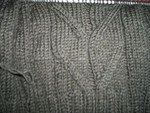 Strange but none of the pictures look the same color.Just so you know the real color looks like the first picture.
I also received a nice package! A gift from my "poligodmother" !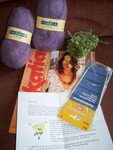 Here are the pictures: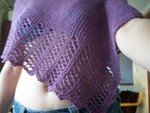 A t-shirt this time! When I went to Les Jeux du Commerce in Rimouski last year we received the official t-shirt of the games, in LARGE, really too big for me: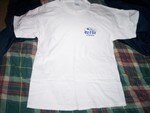 Here's the t-shirt after a few alterations: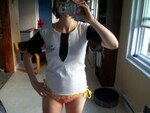 I had an old pair of jeans. My favorite jeans, but one night I discovered this:
A nice hole! I thought this was the occasion to try reconstructing them. Since I visited craftster for the first time, I had a lot of ideas about things to do with old clothes. Here's a look of the jeans before transformation:
After a few cuts jeans were now pieces of fabric and then they started to look like that: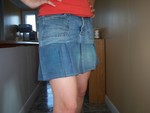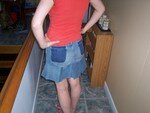 (photographer: Mr P-L)
There is still a hole near the back pocket, I took off the original pockets and I will try to find an idea for new pockets, maybe in another fabric or in jeans, I still have one leg left. Ideas?
21 juin 2006
I need to stop browsing through blogs. I always fell in love with something and wind up getting my credit card out of my purse! This is what happened with this:
A really cute ponchonette, isn't it? I found it on FurBallRolls' blog. I bought the hemp in Lilac just because I never knitted in Lilac. :)
Look what I juste bought on Ebay!
I'm loving the turquoise shade! Now I just have to decide what I'm gonna knit with it... Ideas?
19 juin 2006
I finished birch!! After so many hours of hard work, I did it!!! For your eye pleasure:
Another shot, closer:
Pssst, I am the model. My mother, the photographer.
14 juin 2006
I haven't finished anything since the scarf. I have too many projets at the same time. I should concentrate on just one! I started a sweater for my boyfriend PL. It's from Bergère de France, I only have half the back done...
My other projet at the moment is the Birch. The picture I have was taken three weeks ago, I have almost finished it now. I'll post a picture later when it's done.
One day this winter I went shopping with my mother. We stopped by a Zellers because I'm addicted to the yarn section and I need to browse through the skins evertime I get there. My mom fell in love with a black and red yarn, that has a fur aspect:
She asked if I could knit her a scarf. Mom doesn't knit anymore because it gives her pain in the shoulders. She is the one who thaught me the basics. Here is the scarf, once finished. (Forget the roll of toilet paper in the picture, I had to take the picture in the bathroom)