10 août 2006
I had an old pair of jeans. My favorite jeans, but one night I discovered this:
A nice hole! I thought this was the occasion to try reconstructing them. Since I visited craftster for the first time, I had a lot of ideas about things to do with old clothes. Here's a look of the jeans before transformation:
After a few cuts jeans were now pieces of fabric and then they started to look like that: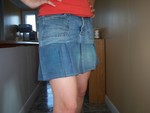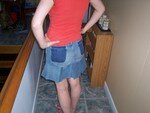 (photographer: Mr P-L)
There is still a hole near the back pocket, I took off the original pockets and I will try to find an idea for new pockets, maybe in another fabric or in jeans, I still have one leg left. Ideas?
Commentaires sur A little bit of sewing